After the flood, the Federal Emergency Management Agency (FEMA) set up four temporary mobile home parks to house Grand Forks and East Grand Forks residents who could not return to their homes. These were commonly known as "FEMAvilles". The largest of the four, First Season, was located in the Grand Forks Industrial Park at the west edge of town. A much smaller mobile home park, Princeton, was set up near the University of North Dakota. Two mobile home parks were set up in East Grand Forks, Recovery Estates North and Recovery Estates South. The first residents moved in during July, 1997.

All trailers were 12 feet by 60 feet. They had three small bedrooms, one bathroom, a living room, and a kitchen/dining area. The trailers could accomodate up to six people, but six was a crowd. Larger families received two trailers.

The trailers were not built for the North Dakota or Minnesota winters. Some had been shipped to Grand Forks from Kentucky, where there had been a flood in March, 1997. Fortunately, the winter of 1997-1998 was mild. First Season was located at the west edge of Grand Forks, with only open prairie beyond, so it was quite windy. In the winter, the snow drifted, and when it was dry, the dust blew. When it rained, mud was everywhere.

A community center, the First Season Community Center, opened in December, 1998, in a vacant industrial building a couple blocks away from First Season Mobile Park. It had a day care center and indoor play area, and a computer room.

By the summer of 1998, many trailer park residents had moved on to other homes or apartments. Some of the vacant trailers were shipped to the Devils Lake Sioux Indian Reservation for families displaced by Devils Lake flooding. The trailer parks closed on October 1, 1998, and the remaining trailers were removed. By December, only the playground equipment remained.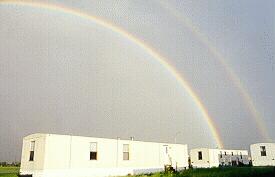 There was no pot of gold at the end of this rainbow, only a FEMA trailer.

First Season Community Center.

Christmas in July in FEMAville. The trailer at right has a Christmas tree on it.

Only the playground equipment remains at First Season, December, 1998.