Many homes in the Sherlock Park neighborhood had been torn down by April, 1998.

Photo: Alan Draves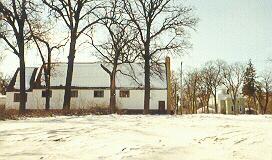 The Bible Baptist Church sits empty in Sherlock Park, March, 1998. The congregation moved to a new building west of Grand Forks after the flood.

Photo: Brian Moe

Weeds take over at a Sherlock Park house, July 1998.

Photo: Alan Draves